India wicket-keeper batter Rishabh Pant has batted for the first time since his car accident in December last year. Pant was involved in a high-speed crash while driving from Delhi to Roorkee to surprise his family members. He suffered multiple injuries, including a head injury, a back injury, and a leg injury.
Pant has been recovering at the National Cricket Academy (NCA) in Bengaluru since the accident. He has been undergoing physiotherapy and rehabilitation, and he has also been batting in the nets.
On Wednesday, Pant batted for the first time in a competitive setting. He was part of a practice match between India A and India B at the NCA. Pant scored 20 runs off 15 balls, including three fours.
Pant's batting was a positive sign for India. He looked in good touch, and he was able to hit the ball with power. It is still too early to say when Pant will be back in action for India, but his batting on Wednesday is a step in the right direction.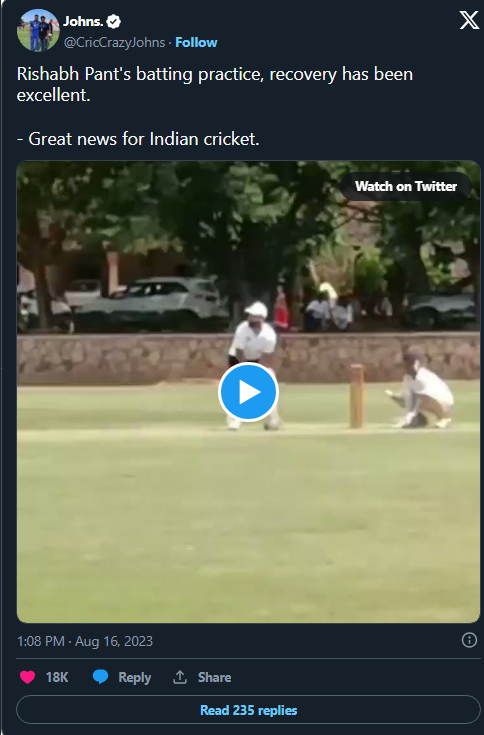 Pant's absence from the Indian team will be a big blow, especially ahead of the 2023 ICC Cricket World Cup. However, if he can recover from his injuries and return to form, he will be a valuable asset to the Indian team for many years to come.
Here are some factors that could affect Pant's chances of playing for India again:
The severity of his injuries: The extent of Pant's injuries is not yet fully known. If he has suffered any long-term damage, it could take him longer to recover and return to international cricket.
His rehabilitation process: Pant will need to undergo a rigorous rehabilitation process in order to get back to full fitness. This will require a lot of hard work and dedication on his part.
The competition for places: Pant will be competing with some other talented wicket-keeper batters for a place in the Indian team. These include Sanju Samson, Ishan Kishan, and KL Rahul.
The form of the Indian team: The Indian team is currently in a rebuilding phase. If they are not performing well, it could put pressure on the selectors to make changes to the team, including dropping Pant.
Pant's recovery has been a slow and steady process. He has had to be patient, and he has had to work hard. But his batting on Wednesday shows that he is on the right track. Pant is a talented cricketer, and he is a key member of the Indian team. His return to action will be a big boost for India.
Pant's car accident was a major setback, but he has shown great determination in his recovery. He is a fighter, and he is determined to get back to playing cricket for India. Pant's batting on Wednesday was a positive sign, and it is a step in the right direction. Fans can be confident that Pant will be back in action for India soon.