Thibaut Courtois: Real Madrid goalkeeper Thibaut Courtois has suffered an anterior cruciate ligament (ACL) injury in his left knee and is likely to miss the rest of the season. Courtois sustained the injury in training on Thursday and underwent further tests on Friday, which confirmed the extent of the damage. He will now undergo surgery in the coming days and is expected to be out for around 9 months.
The 31-year-old has been a key player for Real Madrid since joining from Chelsea in 2018. He has won two La Liga titles and one Champions League with the Spanish club. Courtois' injury is a major blow to Real Madrid, who are already without David Alaba through injury. The club will now need to find a replacement for Courtois, with Andriy Lunin the likely candidate.
Lunin is a talented goalkeeper, but he has limited experience at the top level. He will need to step up and fill Courtois' shoes if Real Madrid are to challenge for trophies this season. Courtois' injury is also a setback for Belgium, who are preparing for the World Cup in Qatar later this year. The goalkeeper is one of the key players in Roberto Martinez's squad and his absence will be a big loss.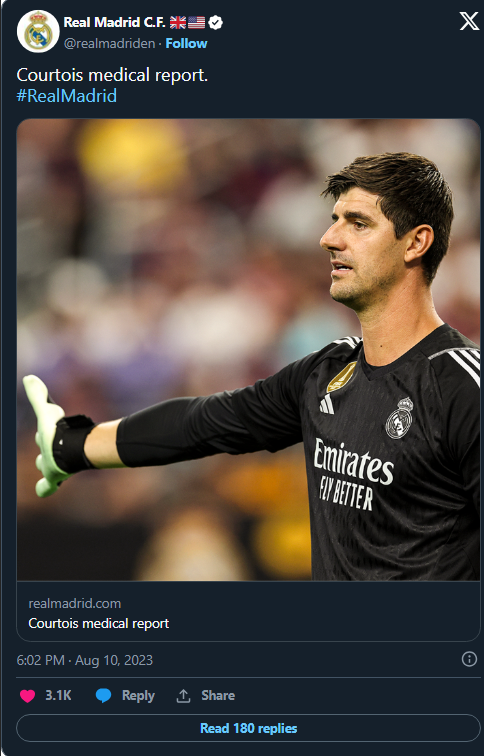 ---
Who will replace Courtois?
Andriy Lunin is the only other senior goalkeeper at Real Madrid. He has been with the club since 2018 but he has only made a handful of appearances. Lunin is a talented goalkeeper, but he is not as experienced as Courtois.
It will be interesting to see how he copes with the pressure of playing for Real Madrid as their first-choice goalkeeper. Real Madrid could also look to sign a new goalkeeper in the winter transfer window.
There are a number of good goalkeepers available on the market, such as Kepa Arrizabalaga and Dean Henderson. However, it remains to be seen whether Real Madrid will be willing to spend money on a new goalkeeper in the middle of the season.
---
Also Read: WFI: Punjab and Haryana High Court Stays Wrestling Federation Elections
---
What does this mean for Real Madrid's season?
Courtois' injury is a major setback for Real Madrid but they have a strong squad and they should be able to cope without him for the time being. However, his absence will be felt in the Champions League, where Real Madrid are the defending champions.
Courtois was one of the key players in Real Madrid's Champions League victory last season and his absence will make it more difficult for them to defend their title.
Courtois is expected to make a full recovery from his injury, but it will be a long road back. He will need to be patient and work hard in his rehabilitation.